Donna Paz is in a unique position. Not only is she the owner of Story & Song, which combines a bookstore, bistro, catering service for book clubs, and gallery space. But for nearly 30 years she has also helped advise new bookstore owners through the Retail Training Center for Booksellers. Who better to ask about the current climate of the bookselling trade, and to offer perspective on what indie bookstores offer that online vendors can't, why book groups are essential to the community of a store, and the special bonds between books and food?

Donna spoke about all of this and more in our interview…
Reading Group Choices: For nearly 20 years, you have been providing training to existing and potential bookstore owners. With so much experience meeting and working with booksellers, can you name a few key ingredients for opening and running a sustainable store? We realize those ingredients might be changing right now, but are there qualities that remain the same?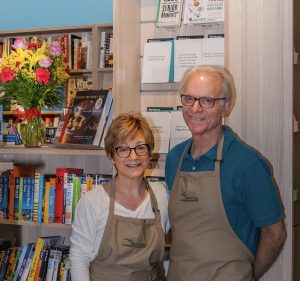 Donna Paz: If someone has had the dream of opening a bookstore, I think it is important to follow that dream so that at the end of your time on earth you will have no regrets. Do your homework: learn the business of retail bookselling, know how much your dream will cost, find out how much you can borrow, and estimate how much you can earn to see if the numbers work for you (and whether this aspect of business causes you stress and sleepless nights). Entrepreneurship requires vision, skill, and lots and lots of time and energy. Did I say lots and lots of time and energy?
RGC: Did you have any specific bookstores in mind as models when opening Story and Song in 2018?
DP: Lots and lots of them from all over the world inspired Story & Song Bookstore Bistro. One bookstore stands out, the #1 UK bookstore some years ago, the Watermill Bookstore & Cafe with a rich combination of bookshop, cozy cafe, and art gallery/event space.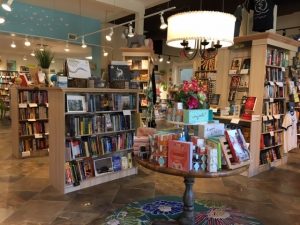 RGC: Did you know you wanted book groups to meet at the store and to be part of your shop community before you opened? Why do you feel like book groups are important – not only socially for the individual members, but also for the connection to their local bookstores?
DP: Book groups are such an important marketing opportunity for every bookstore and Story & Song is no different. We enjoy a community where people visit, fall in love with, and then plan to relocate at some point in their lives. Book discussion groups are the perfect way for people to meet other readers, become part of the community, and make personal connections. Bookstores are connectors in many ways and book groups are a key way bookstores go way beyond being a retail business to become a community hub.
RGC: Your monthly fiction book group is currently meeting in person, socially distanced. When did the group begin, who has it attracted, and how has it evolved since?
DP: Yes, we're meeting in person and although we are wearing our masks and quite a bit apart physically, people are grateful to be out of the house and connecting. The group began shortly after we opened in February 2018 and continues to draw new residents, avid readers, customers who want to be a part of engaging conversation.
RGC: How are books selected for the group, and how is discussion moderated (if any rules exist)?
DP: Early on we asked the group members and they actually didn't want to take on the task of recommending and voting and asked if we'd pick the books. We always ask for and welcome input, and with resources like Reading Group Choices, we're never at a loss for what to fill the calendar!
RGC: Are there any specific titles that book groups are asking for or talking about right now? Are there any that are perennially in demand?
DP: The stress of COVID is showing in our book group members and taking on anything that is dark and with a depressing conclusion can make life even harder and heavier right now. Our group enjoys books that spotlight strong women left out of history, interesting choices and relationships, and fresh voices.
RGC: How do the various offerings and spaces within Story and Song — gallery, bistro, bookshop, event room — work in conjunction with one another? Could any part exist without the other?
DP: We have learned during COVID that it is every aspect of our business model that makes Story & Song unique and even beloved. Our bistro has been busy with take-out orders, book sales are up over 2019, and people come to browse the art gallery and find unique cards. Everyone misses our events and concerts. The catering aspect of our business, which was just beginning to blossom, will be back when we have a healthier environment and this moment just gives us the gift of fine tuning our next steps.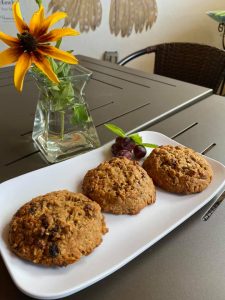 RGC: Story and Song features breakfast, lunch, and snacks at your bistro. What connects books and food?
DP: This summer we launched "Spice of Life: A Literary & Culinary Adventure" to pair books with food. One of our bistro employees is from Uruguay, so she cooked for 47 people who took home "comfort food" from Uruguay and books by Paulo Coelho. We'll keep doing this and one day we'll sit at community tables and enjoy these meals with stories about various cultures. When Mark and I married in Italy, the city clerk told us "All things of importance happen around a table," which is where we shared our vows. Food and sitting at the table is a sacred part of life.
RGC: How would you describe the character of Amelia Island? In what ways does the store reflect and connect to the community?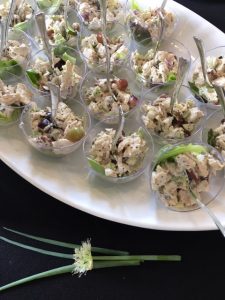 DP: Amelia Island is breezy and creative, nature-loving and grateful for a little slice of paradise.
Our signature colors reflect nature … blue, green and brown. There are dozens of white paper birds in flight high on two walls in the store (with blue backgrounds). Our events spotlight local interests and we're there for local authors to help them launch their new books. We always have the coffee on and we've become known as the place you run into your friends and neighbors. Just the other day, I introduced a new customer who is a recent widow to another neighbor who lost her husband a few years ago. They ended up spending more than an hour in our courtyard chatting and getting to know one another. You don't get these things when you shop online.
RGC: In terms of a bigger picture, we're curious how you're thinking about this time for booksellers and the book industry. How is the role of the bookstore changing when people are less able to visit in person? Are there larger or long-term changes to the industry due to the pandemic that may be positive or even overdue?
DP: First, this should be a golden time for books and reading for everyone. So far, there are a few colleagues I know who have increased sales over 2019, like Amazon, but most have not.
The role of a bookseller will mean promoting all of the ways we are there to serve the customer and to grab some of those sales that are going to Amazon. We must never tire of promoting shopping local and the value of a bookshop to curate selections for individual communities.
I hope we will soon be beyond bookselling via email, website and phone to see more of our friends and neighbors in person. We will all treasure that more than ever before. I think that qualifies as positive change … living gratefully every moment and for the most ordinary things.
For more information, visit the Story & Song website.
---
Take a tour of our other Book Group Store Tour posts on our blog!