Interested in the story behind the story?
Do you devour stories about books, book thieves, book stores, and book sellers? Are you always wondering what happens after a story ends or before a book begins? Then this is the list for you, a treasure trove of bookish books for the extreme reader.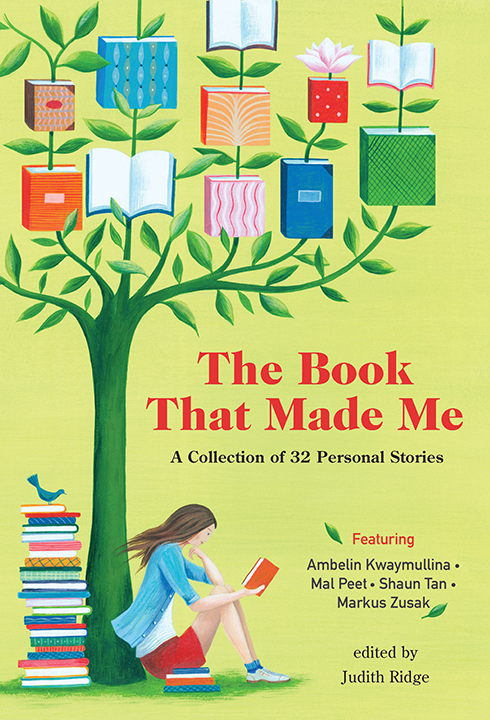 The Book That Made Me: A Collection of 32 Personal Stories
edited by Judith Ridge
What if you could look inside your favorite authors' heads and see the book that led them to become who they are today? What was the book that made them fall in love, or made them understand something for the first time? What was the book that made them feel challenged in ways they never knew they could be, emotionally, intellectually, or politically? What book made them readers, or made them writers, or made them laugh, think, or cry? Join thirty-one top children's and young adult authors as they explore the books, stories, and experiences that changed them as readers — for good.
Some of the contributors include: Ambelin Kwaymullina, Mal Peet, Shaun Tan, Markus Zusak, Randa Abdel-Fattah, Alison Croggon, Ursula Dubosarsky, Simon French, and Jaclyn Moriarty.
---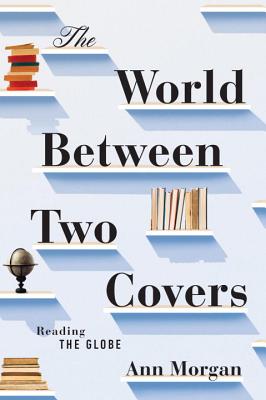 The World Between Two Covers: Reading the Globe
by Ann Morgan
Prompted to read a book translated into English from each of the world's 195 UN-recognized countries, Ann sought out classics, folktales, current favorites and commercial triumphs, novels, short stories, memoirs, and countless mixtures of all these things. The world between two covers, the world to which Ann introduces us with affection and no small measure of wit, is a world rich in the kind of narratives that engage us passionately. Ann's quest explores issues that affect us all: personal, political, national, and global. What is cultural heritage? How do we define national identity? Is it possible to overcome censorship and propaganda? And, above all, why and how should we read from other cultures, languages, and traditions? Illuminating and inspiring, The World Between Two Covers welcomes us into the global community of stories.
---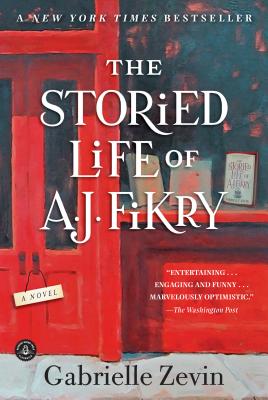 The Storied Life of A.J. Fikry
by Gabrielle Zevin
J. Fikry, the irascible owner of Island Books, has recently endured some tough years: his wife has died, his bookstore is experiencing the worst sales in its history, and his prized possession — a rare edition of Poe poems — has been stolen. Over time, he has given up on people, and even the books in his store, instead of offering solace, are yet another reminder of a world that is changing too rapidly. Until a most unexpected occurrence gives him the chance to make his life over and see things anew. Gabrielle Zevin's enchanting novel is a love letter to the world of books — an irresistible affirmation of why we read, and why we love.
---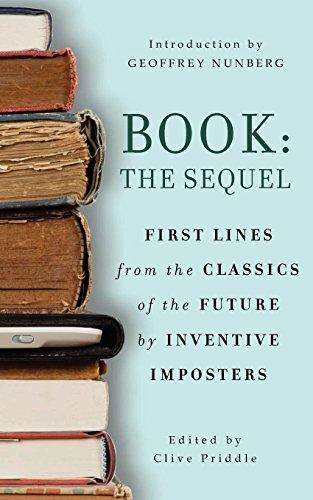 Book: The Sequel: First Lines from the Classics of the Future by Inventive Impostors
edited by Clive Priddle
After the last page is turned and the cover closed on a great book, is it really over? Ever wonder what happens to Harry Potter after, say, twenty years of marriage and a steady government gig? Or what Karl Marx would say about today's financial crisis? What did Scarlett O-Hara really think about tomorrow? What comes after ever-after? BOOK: The Sequel dares to answer these burning questions with imagined first sentences from would-be follow-ups to classics from The Bible to Lord of the Rings, and from Green Eggs to Hamlet. A delicious and unexpected return engagement from favorite characters like Jane Eyre, Ebenezer Scrooge, Jay Gatsby, Holden Caulfield, Wilbur the Pig, and Captain Ahab, BOOK: The Sequel is a perfect gift for book lovers everywhere, or anyone to whom The End is simply the starting point for their imagination.
---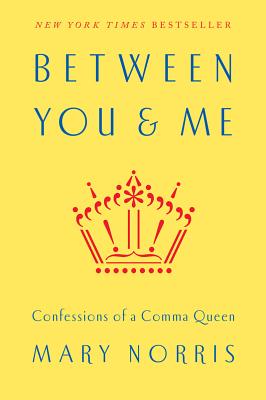 Between You & Me: Confessions of a Comma Queen
by Mary Norris
Mary Norris has spent more than three decades in The New Yorker's copy department, maintaining its celebrated high standards. Now she brings her vast experience, good cheer, and finely sharpened pencils to help the rest of us in a boisterous language book as full of life as it is of practical advice. Between You & Me features Norris's laugh-out-loud descriptions of some of the most common and vexing problems in spelling, punctuation, and usage, and she draws on examples from Charles Dickens, the Lord's Prayer, The Simpsons, and Gillian Flynn. She takes us on a quest to find out who put the hyphen in Moby-Dick, on a pilgrimage to the world's only pencil-sharpener museum, and inside the hallowed halls of The New Yorker. Readers—and writers—will find in Norris neither a scold nor a softie but a wise and witty new friend in love with language and alive to the glories of its use in America, even in the age of autocorrect and spell-check.
---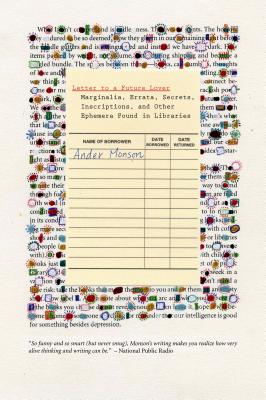 Letter to a Future Lover: Marginalia, Errata, Secrets, Inscriptions, and Other Ephemera Found in Libraries
by Ander Monson
An exuberant, expansive cataloging of the intimate physical relationship between a reader and a book. Readers of physical books leave traces: marginalia, slips of paper, fingerprints, highlighting, inscriptions. All books have histories, and libraries are not just collections of books and databases but a medium of long-distance communication with other writers and readers. Letter to a Future Lover collects several dozen brief pieces written in response to library ephemera—with "library" defined broadly, ranging from university institutions to friends' shelves, from a seed library to a KGB prison library—and addressed to readers past, present, and future. Through these witty, idiosyncratic essays, Ander Monson reflects on the human need to catalog, preserve, and annotate; the private and public pleasures of reading; the nature of libraries; and how the self can be formed through reading and writing.
---
by Geraldine Brooks

People of the Book traces the harrowing journey of a rare illuminated six hundred year old Jewish prayer book told through the eyes of the people who crafted it and those who saved it from destruction, and the young Australian book conservator who unlocks its multi-ethnic secrets, by the winner of the 2006 Pulitzer Prize for Fiction.
In 1996, Hanna Heath, a young Australian book conservator, has been called to handle the job of a lifetime: analysis of the famed Sarajevo Haggadah, a priceless six hundred year old Jewish prayer book that has been salvaged from the destroyed Bosnian library by a courageous librarian. In vivid and exquisite detail, we enter the worlds of the people of the book, the Muslim librarian in Sarajevo who saved it from the Nazis, the Venetian ecclesiastical censor who, in a fit of rage and personal anguish, also protected it from destruction, the sofer, or scribe, who wrote the text, and lastly the mysterious illuminator, whose striking illustrations grace its pages.
---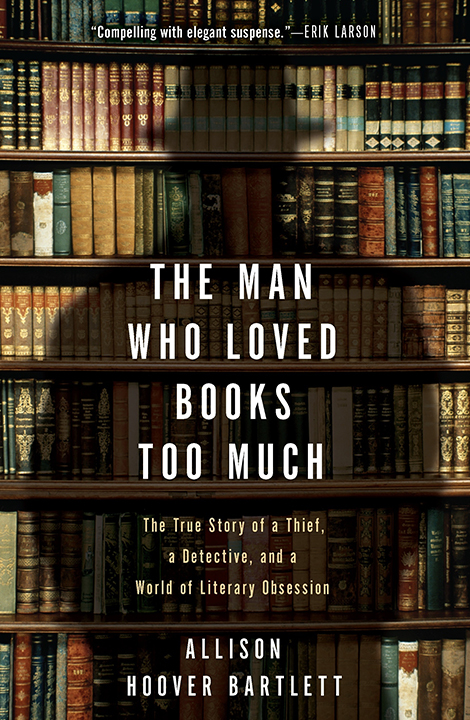 The Man Who Loved Books Too Much: The True Story of a Thief, a Detective, and a World of Literary Obsession
by Allison Hoover Bartlett
Rare-book theft is even more widespread than fine-art theft. Most thieves, of course, steal for profit. John Charles Gilkey steals purely for the love of books. In an attempt to understand him better, journalist Allison Hoover Bartlett plunged herself into the world of book lust and discovered just how dangerous it can be.
With a mixture of suspense, insight, and humor, she weaves an entertaining cat-and-mouse chase into a narrative that not only reveals exactly how Gilkey pulled off his dirtiest crimes, where he stashed the loot, but also explores the romance of books, the lure to collect them, and the temptation to steal them. Immersing the reader in a rich, wide world of literary obsession, Bartlett looks at the history of book passion, collection, and theft through the ages, to examine the craving that makes some people willing to stop at nothing to possess the books they love.
---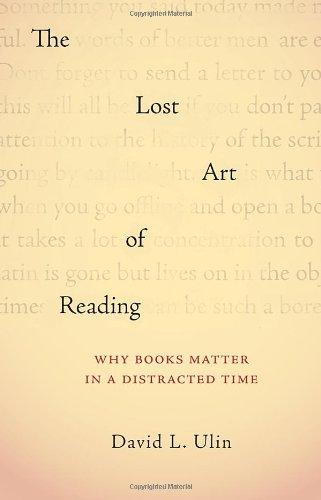 The Lost Art of Reading: Why Books Matter in a Distracted Time
by David Ulin
Reading is a revolutionary act, an act of engagement in a culture that wants us to disengage. In The Lost Art of Reading, David L. Ulin asks a number of timely questions — why is literature important? What does it offer, especially now? Blending commentary with memoir, Ulin addresses the importance of the simple act of reading in an increasingly digital culture. Reading a book, flipping through hard pages, or shuffling them on screen — it doesn't matter. The key is the act of reading, the seriousness and depth. Ulin emphasizes the importance of reflection and pause allowed by stopping to read a book, and the focus required to let the mind run free in a world that is not one's own. Far from preaching to the choir, The Lost Art ofReading is a call to arms, or rather, pages.
---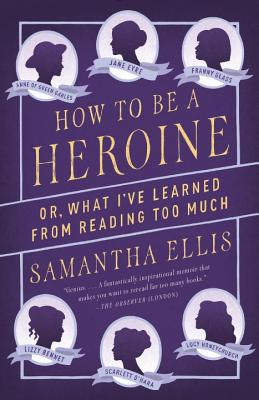 How to Be a Heroine: Or, What I've Learned from Reading too Much
by Samantha Ellis
While debating literature's greatest heroines with her best friend, thirtysomething playwright Samantha Ellis has a revelation—her whole life, she's been trying to be Cathy Earnshaw of Wuthering Heights when she should have been trying to be Jane Eyre. With this discovery, she embarks on a retrospective look at the literary ladies—the characters and the writers—whom she has loved since childhood. From early obsessions with the March sisters to her later idolization of Sylvia Plath, Ellis evaluates how her heroines stack up today. And, just as she excavates the stories of her favorite characters, Ellis also shares a frank, often humorous account of her own life growing up in a tight-knit Iraqi Jewish community in London. Here a life-long reader explores how heroines shape all our lives.
---
by Bahiyyih Nakhjavani
Gossip was rife in the capital about the poetess of Qazvin. Some claimed she had been arrested for masterminding the murder of the grand Mullah, her uncle. Others echoed her words, and passed her poems from hand to hand. Everyone spoke of her beauty, and her dazzling intelligence. But most alarming to the Shah and the court was how the poetess could read. As her warnings and predictions became prophecies fulfilled, about the assassination of the Shah, the hanging of the Mayor, and the murder of the Grand Vazir, many wondered whether she was not only reading history but writing it as well. Was she herself guilty of the crimes she was foretelling? Set in the world of the Qajar monarchs, mayors, ministers, and mullahs, this book explores the dangerous and at the same time luminous legacy left by a remarkable person. Bahiyyih Nakhjavani offers a gripping tale that is at once a compelling history of a pioneering woman, a story of nineteenth century Iran told from the street level up, and a work that is universally relevant to our times.
---
by Laurence Cossé, Alison Anderson (translator)
Ivan, a one-time world traveler, and Francesca, a ravishing Italian heiress, are the owners of a bookstore that is anything but ordinary. Rebelling against the business of bestsellers and in search of an ideal place where their literary dreams can come true, Ivan and Francesca open a store where the passion for literature is given free rein. Tucked away in a corner of Paris, the store offers its clientele a selection of literary masterpieces chosen by a top-secret committee of likeminded literary connoisseurs. To their amazement, after only a few months, the little dream store proves a success. And that is precisely when their troubles begin. At first, both owners shrug off the anonymous threats that come their way and the venomous comments concerning their store circulating on the Internet, but when three members of the supposedly secret committee are attacked, they decide to call the police. One by one, the pieces of this puzzle fall ominously into place, as it becomes increasingly evident that Ivan and Francesca's dreams will be answered with pettiness, envy and violence.
---
by Sanford Friedman; Richard Howard (Introduction by)
Deaf as he was, Beethoven had to be addressed in writing, and he was always accompanied by a notebook in which people could scribble questions and comments. Conversations with Beethoven, in a tour de force of fictional invention, tells the story of the last year of Beethoven's life almost entirely through such notebook entries: Friends, family, students, doctors, and others attend to the volatile Maestro, whose sometimes unpredictable and often very loud replies we infer. A fully fleshed and often very funny portrait of Beethoven emerges. He struggles with his music and with his health; he argues with and insults just about everyone. Most of all, he worries about his wayward—and beloved—nephew Karl. A large cast of Dickensian characters surrounds the great composer at the center of this wonderfully engaging novel, which deepens in the end to make a memorable music of its own.
---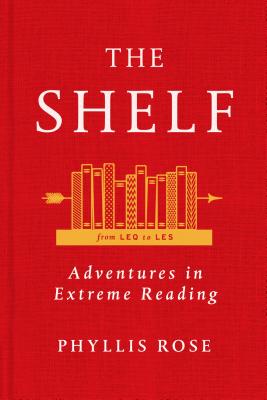 The Shelf: From LEQ to LES: Adventures in Extreme Reading
by Phyllis Rose
Phyllis Rose, after a career of reading from syllabuses and writing about canonical books, decided to read like an explorer. She "wanted to sample, more democratically, the actual ground of literature." Casting herself into the untracked wilderness of the New York Society Library's stacks, she chose a shelf of fiction almost at random and read her way through it. Unsure of what she would find, she was nonetheless certain "that no one in the history of the world had read exactly this series of novels." A joyous testament to the thrill of engagement with books high and low, The Shelf leaves us with the feeling that there are treasures to be found on every library or bookstore shelf. Rose investigates her own discoveries with exuberance, candor, and wit while exploring and relishing the centripetal nature of reading in the Internet age. Measuring her finds against her own inner shelf—those texts that accompany her through life—she creates an original and generous portrait of the literary enterprise.
---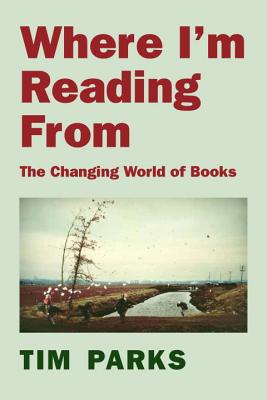 Where I'm Reading From: The Changing World of Books
by Tim Parks
Why do we need fiction? Why do books need to be printed on paper, copyrighted, read to the finish? Why should a group of aging Swedish men determine what "world" literature is best? Do books change anything? Did they use to? Do we read to challenge our vision of the world or to confirm it? Has novel writing turned into a job like any other? In Where I'm Reading From, the internationally acclaimed novelist and critic Tim Parks ranges over a lifetime of critical reading to overturn many of our long-held assumptions about literature and its purpose. Taking the form of thirty-eight interlocking essays, Parks examines the rise of the "global" novel and the disappearance of literary styles that do not travel; the changing vocation of the writer today; the increasingly paradoxical effects of translation; the shifting expectations we bring to fiction; the growing stasis of literary criticism; and the problematic relationship between writers' lives and their work.
---
by Margret Aldrich
"Take a book. Return a book." In 2009, Todd Bol built the first Little Free Library as a memorial to his mom. Five years later, this simple idea to promote literacy and encourage community has become a movement. Little Free Libraries—freestanding front-yard book exchanges—now number twenty thousand in seventy countries. The Little Free Library Book tells the history of these charming libraries, gathers quirky and poignant firsthand stories from owners, provides a resource guide for how to best use your Little Free Library, and delights readers with color images of the most creative and inspired LFLs around.