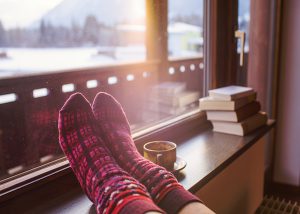 Wait. Press pause. Put down whatever you're doing (except reading this!).
Wouldn't you like a cup of coffee or some tea? Go ahead: Eat something sweet along with it, a pastry or cookie. Most of all, say hello to a friend, a neighbor, the person in the next cubicle, the parent on the playground. Take a few minutes to relax and catch up.
The concept is called fika (fee-ka), and it's practiced in Sweden at least once or twice a day—a moment to stop, take a break, have a hot drink and a nibble, and connect with those around you. The word comes from a slang version of the Swedish word kaffee, or coffee. And the idea is built into the culture: Even the IKEA employee recruitment website stresses its importance, stating that, "Some of the best ideas and decisions happen at fika." A day without kifa is…unimaginable!
The key ingredient, though, is relaxing and spending time with others, and that's where Reading Group Choices saw the link between this Swedish tradition and book groups.
We can all read alone with a cup of coffee, and we can all think about or journal about (or be angry with) a book on our own. But what deepens our appreciation of a book, what changes our minds, and what brings reading alive is coming together with other book enthusiasts around a table to talk and laugh and share our experiences.
Is it any wonder that Sweden and other Scandinavian countries, which place a similar value on the ritual of coffee and company, consistently rank among the world's happiest, according to the United Nations' annual World Happiness Report?
Several recent books explore the truth behind that phenomenon of happiness.
Anu Partanen, a Finnish journalist who moved to the United States, wrote The Nordic Theory of Everything: In Search of a Better Life to uncover what makes life more stressful in the US, and what her adopted country can learn from her homeland. Another book, The Almost Nearly Perfect People: Behind the Myth of the Scandinavian Utopia, uncovers the less-than-ideal reality behind the happy reputation the Nordic countries are known for. And in The Year of Living Danishly, author Helen Russell puts Denmark to the test by immersing herself in the culture. All can make interesting picks for your next group discussion.
If fiction's more to your taste, we also present these novels by Swedish authors. Share one with your group during your own fika. Just make sure there's plenty of coffee and sweet treats!
by Fredrik Backman
The bestselling author of A Man Called Ove and My Grandmother Asked Me to Tell You She's Sorry returns with an irresistible novel about finding love and second chances in the most unlikely of places. Britt-Marie can't stand mess. A disorganized cutlery drawer ranks high on her list of unforgivable sins. She begins her day at 6 a.m., because only lunatics wake up later than that. And she is not passive-aggressive. Not in the least. She is not one to judge others—no matter how ill-mannered, unkempt, or morally suspect they might be. But hidden inside the socially awkward, fussy busybody is a woman who has more imagination, bigger dreams, and a warmer heart that anyone around her realizes.
by Linda Olsson
Veronika, a young writer from New Zealand, rents a house in a small Swedish village as she tries to come to terms with a recent tragedy while also finishing a novel. Her arrival is silently observed by Astrid, an older, reclusive neighbor who slowly becomes a presence in Veronika's life, offering comfort in the form of companionship and lovingly prepared home-cooked meals. Set against a haunting Swedish landscape, Astrid & Veronika is a lyrical and meditative novel of love and loss, and a story that will remain with readers long after the characters' secrets are revealed.
by Cecilia Ekbäck
Swedish Lapland, 1717 – Maija, her husband Paavo and her daughters Frederika and Dorotea arrive from their native Finland, hoping to forget the traumas of their past and put down new roots in this harsh but beautiful land. Above them looms Blackåsen, a mountain whose foreboding presence looms over the valley and whose dark history seems to haunt the lives of those who live in its shadow. One day, Frederika happens upon the mutilated body of one of their neighbors. The death is dismissed as a wolf attack, but Maija feels certain that the wounds could only have been inflicted by another man.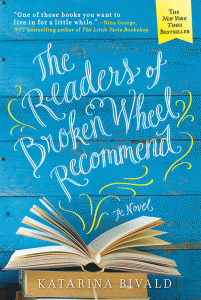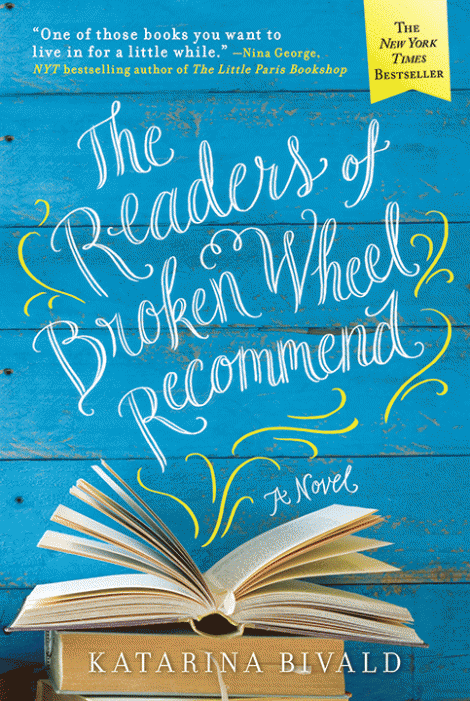 THE READERS OF BROKEN WHEEL RECOMMEND
by Katarina Bivald
Once you let a book into your life, the most unexpected things can happen…
Broken Wheel, Iowa, has never seen anyone like Sara, who traveled all the way from Sweden just to meet her book-loving pen pal, Amy. When she arrives, however, she finds Amy's funeral guests just leaving. The residents of Broken Wheel are happy to look after their bewildered visitor—there's not much else to do in a dying small town that's almost beyond repair.
You certainly wouldn't open a bookstore. The bookstore might be a little quirky. Then again, so is Sara.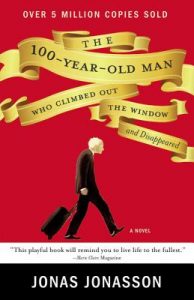 THE 100-YEAR-OLD MAN WHO CLIMBED OUT THE WINDOW AND DISAPPEARED
by Jonas Jonasson
The international publishing sensation–over six million copies sold worldwide.
After a long and eventful life, Allan Karlsson ends up in a nursing home, believing it to be his last stop. The only problem is that he's still in good health, and in one day, he turns 100. A big celebration is in the works, but Allan really isn't interested (and he'd like a bit more control over his vodka consumption). So he decides to escape. He climbs out the window in his slippers and embarks on a hilarious and entirely unexpected journey.