From January to June, readers have already been introduced to a host of debut authors in 2021!
We're proud to offer a selection of first-time novelists and memoirs, adult and YA alike, that we've recommended so far this year on Reading Group Choices. Take a chance with one of these new voices! Find discussion questions, interviews, and extras below for a lively discussion with your group. We're already looking forward more debut authors in 2021, and a second half as lively as the first…
Ready to discover your new favorite author?
---
by Mateo Askaripour
Novel, January 2021
There's nothing like a Black salesman on a mission.
For fans of Sorry to Bother You and The Wolf of Wall Street—a crackling, satirical debut novel about a young man given a shot at stardom as the lone Black salesman at a mysterious, cult-like, and wildly successful startup where nothing is as it seems.
Watch our Book-a-Day live chat with Mateo here!
---
by Amelia Pang
Nonfiction, February 2021

In 2012, an Oregon mother named Julie Keith opened up a package of Halloween decorations. Something shocking fell out: an SOS letter, handwritten in broken English.
"Sir: If you occassionally buy this product, please kindly resend this letter to the World Human Right Organization. Thousands people here who are under the persicuton of the Chinese Communist Party Government will thank and remember you forever."
investigative journalist Amelia Pang shows us the true cost of America's cheap goods and shares what is ultimately a call to action.
---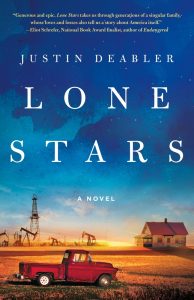 by Justin Deabler
Novel, February 2021
Lone Stars follows the arc of four generations of a Texan family in a changing America. Julian Warner, a father at last, wrestles with a question his husband posed: what will you tell our son about the people you came from, now that they're gone? Finding the answers takes Julian back in time to Eisenhower's immigration border raids, an epistolary love affair during the Vietnam War, crumbling marriages, queer migrations to Cambridge and New York, up to the disorienting polarization of Obama's second term. And in these answers lies a hope: that by uncloseting ourselves—as immigrants, smart women, gay people—we find power in empathy.
---
by Angeline Boulley
Young Adult, March 2021
Keep their secrets. Live their lies. Earn your truth.
Eighteen-year-old Daunis Fontaine wants to leave home to discover who she really is. She's always felt like an outsider, both in her hometown and on the nearby Ojibwe reservation. Then Daunis witnesses a shocking murder, thrusting her into the heart of an ongoing FBI investigation. As the secrets pile up and the deception strikes close to home, Daunis must learn what it means to be a strong Anishinaabe kwe (Ojibwe woman).
---
by Caleb Azumah Nelson
Novel, April 2021

In a crowded London pub, two young people meet. Both are Black British, both won scholarships to private schools where they struggled to belong, both are now artists—he a photographer, she a dancer—and both are trying to make their mark in a world that by turns celebrates and rejects them. Tentatively, tenderly, they fall in love. But two people who seem destined to be together can still be torn apart by fear and violence, and over the course of a year they find their relationship tested by forces beyond their control.
---
by Daniel Aleman
Young Adult, May 2021
Mateo Garcia and his younger sister, Sophie, have been taught to fear one word for as long as they can remember: deportation. Over the past few years, however, the fear that their undocumented immigrant parents could be sent back to Mexico has started to fade. Ma and Pa have been in the United States for so long, they have American-born children, and they're hard workers and good neighbors. When Mateo returns from school one day to find that his parents have been taken by ICE, he realizes that his family's worst nightmare has become a reality. He must figure out who he is and what he is capable of, even as he's forced to question what it means to be an American.
---
by Shawna Kay Rodenberg
Memoir, June 2021
Kin is a mesmerizing memoir of survival that seeks to understand and make peace with the people and places that were survived. It is above all about family—about the forgiveness and love within its bounds—and generations of Appalachians who have endured, harmed, and held each other through countless lifetimes of personal and regional tragedy.
"This startling memoir of a wild soul will electrify you." – Bonnie Jo Campbell
---
by Kendra Atleework
Memoir, June 2021
Kendra Atleework grew up in Swall Meadows, in the Owens Valley of the Eastern Sierra Nevada. Kendra's parents taught their children to thrive in this beautiful, if harsh, landscape, prone to wildfires, blizzards, and gale-force winds. After her mother died of when Kendra was just sixteen, however, her once-beloved desert world came to feel empty and hostile. The Atleework family fell apart. But after years of avoiding her troubled hometown, she realized that she needed to come to terms with its past and present and had to go back.
---
Looking for more great reads? Check out our Favorite Books page for the best picks from each year!