July 2021 Spotlight: The Sunday Sleuths Reading Group
Our July 2021 Spotlight specializes in mysteries and invites the author to their meetings!
The Sunday Sleuths Reading Group was formed at Murder on the Beach Mystery Bookstore in 1999. Three members have been with us nonstop since then! The group ranges from 20 people during the winter season, to 5-6 during the summer, and is led by Stephanie Levine. We meet on the third Sunday of each month at 3 pm, and for the last year have been meeting virtually.
We discuss the book from 3-3:30pm, then invite the author to attend and answer any questions we may have. One of the silver linings of Covid19 is that it is a lot easier to get the author to participate for 30 minutes in a Zoom than to get them in person! In this picture, the author of Wrecked, Mary Anna Evans, is in the bottom right corner.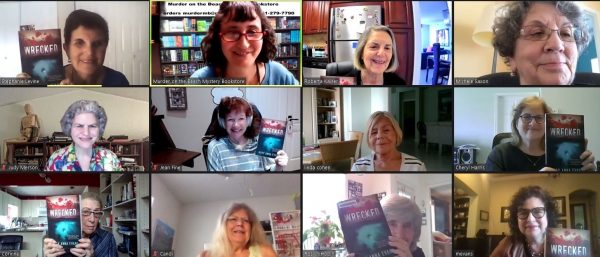 We like to read books that are nominated for the Edgar or Agatha Awards, the Sun-Sentinel's Favorites of the year by Oline Cogdil, and we recently embarked on a program to read one novel set in each of the 50 states!
Some of our favorites from the past year are: This Tender Land by William Kent Krueger, Elevator Pitch by Linwood Barclay, August Snow by Stephen Mack Jones, The Stranger Inside by Laura Benedict, and If She Wakes by Michael Koryta.
All of our Spotlight Groups receive a box of discussable books. Penguin Random House will be sending the members of the Sunday Sleuths free copies of these great titles:
Remember by Lisa Genova
Malibu Rising by Taylor Jenkins-Reid
The Book of Lost Friends by Lisa Wingate
Where the Grass Is Green and the Girls Are Pretty by Lauren Weisberger