September 2021 Spotlight: Good Books Good Company (GBGC)
Our September 2021 Spotlight gets involved in promoting reading across Rhode Island with local events!
GBGC (Good Books Good Company) has 15 active members with on average 8-12 in attendance at our bi-monthly meetings.  The club has been meeting since 2000.  I, Rosanne Trissler (lower far left), joined in 2001 when I came on board as a librarian at La Salle Academy.  This has been a steady group – even with the need to "go virtual" this past year.  June was the first opportunity that we had to reconvene in person at one of our member's back yard!  We meet on the first Thursday afternoon of "even months" (February, April, June, August, October, and December).  Most of the members are/have been teachers, staff, or administrators at La Salle Academy in Providence, RI. Meeting locations have varied over the years ranging from after school in the La Salle Academy Library or at a member's house (with potluck snacks – sometimes "themed") to booking a private table or dining room in various local restaurants.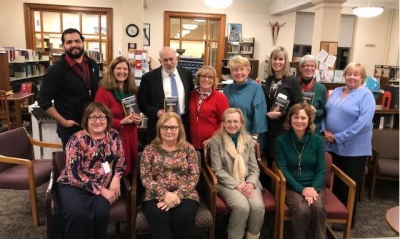 Generally, the beginning of our August meeting is devoted to scheduling the book and author choices for the year. We all put forward titles,  authors, and themes. Favorites over the past few years:  If one of us has personal connections with authors who have expressed a willingness to meet with us this is put forward as well.  In the past few years we have had the pleasure to host: Ann Hood (as avid fans, we talked, laughed and cried with her about all of her books!), Chris Bohjalian (The Sandcastle Girls), Robert Dugoni (The Extraordinary Life of Sam Hell and the Tracy Crosswhite detective series),  Sheila Blanchette (Under the Same Sun ) and several Rhode Island authors – Dr. Michael Fine (Abundance),  (Manisses) and Julien Ayotte (Dangerous Bloodlines).  One of our members, Connie Ciampanelli, is a recently published author so we especially enjoyed our meetings with her to discuss her two nonfiction works: Journey to 10K: Adventures of an Older Novice Runner, and her second – Bart the Mysterious).
In addition to our monthly meetings, we have been blessed in Rhode Island to live under the page-turning inspirational sunbeam of mother -daughter team Robin Kall and Emily Homonoff who have shared so many incredible Reading with Robin book events the proceeds of which sponsor non-profits in our area.  Additionally, most members take part in the Reading Across Rhode Island program annually, and we attend the author events offered through Rhode Island Center for the Book as well. These author talks have proven to be a natural social outgrowth of GBGC activities and sometimes we have the opportunity to share them with our whole school community (esp. the annual Reading Across Rhode Island titles).
Club "Best of the Best" over the past few years: My Life in France by Julia Child, Just Mercy by Bryan Stevenson, The Museum of Extraordinary Things by Alice Hoffman, Winter Garden by Kristen Hannah, and A Gentleman in Moscow by  Amor Towles and The Extraordinary Life of Sam Hell by Robert Dugoni and Born a Crime by Trevor Noah.
All of our Spotlight Groups receive a box of books for discussion! The Overlook Press will be sending the members of the Good Book Good Company free copies of these great titles:
The Mad Woman's Ball by Victoria Mas
The Phone Booth at the Edge of the World by Laura Imai Messina
North by Brad Kessler
The Portrait of a Mirror by A. Natasha Joukovsky