October 2021 Spotlight: Corte Madera Literary and Munching Society (CLAMS)
Our October 2021 Spotlight knows how to celebrate a book with themed costumes and hand made gifts!
CLAMS is the name of our book group, which has been meeting since 2008, and has 10 members. CLAMS stands for "Corte Madera Literary and Munching Society." We meet in Corte Madera, CA, about a half hour north of the Golden Gate Bridge in Northern CA. We choose our books by submitting suggestions in the fall and we then vote electronically via SurveyMonkey, choosing all the books for the following year. Each month the snacks and decorations reflect that book's theme. Our August book involves  a food theme to go along with our annual potluck dinner. For December our Christmas book is often a middle grade or YA book with a holiday theme. One of our members makes personalized bookmarks for each of us, and we have a Yankee Swap gift exchange consisting of a giftwrapped used book. During the year we sometimes dress in costumes related to the book: pirates for Cinnamon and Gunpowder; with decorations and photos for a wedding theme in The Gown;  circus food and posters for True Vine; and we had a Kentucky Derby party when we read Seabiscuit, betting on the race (with play money), making and wearing themed hats, and drinking mint juleps.  We've had several authors visit in person and via Zoom/Skype (including Rhys Bowen, Laurie R King, Robin Oliveira) , and we've gone to author events, too.

Our favorite books in 2020 were The Gown, Virgil Wander, Betty Ford bio by Lisa McCubbin, The Dutch House and This Tender Land (it was a good year for books)!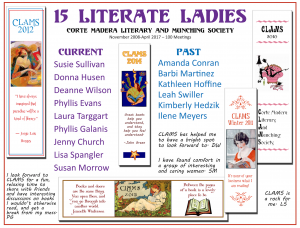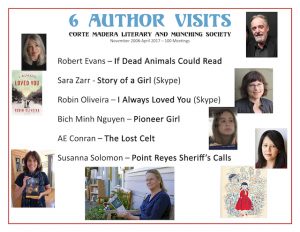 All of our Spotlight Groups receive a box of books for discussion! Graywolf Press will be sending the members of the CLAMS free copies of these great titles:
Walking on Cowrie Shells by Nana Nkweti
The House of Rust by Khadija Abdalla Bajaber
American Harvest by Marie Mutsuki Mockett
The Girl Who Trod on a Loaf by Kathryn Davis
To enter to become an RGC Spotlight group, email a picture and description of your group to info@readinggroupchoices.com.