December 2020 Spotlight: Book Club Girls Sparta
Our December 2020 Spotlight celebrates two years together and discusses two books every meeting!
We are a group of 24 women that range in age from mid-thirties to 70s who have been together for two years now (in November). We are out of Sparta, New Jersey, and call ourselves the Book Club Girls Sparta. We meet once a month and usually discuss two books.  It is a wonderful group of women who have come together to share their love of books, wine, food, and friendship.
This photo was taken in January when we met for our first meeting for 2020. Who would have thought two months later we would be in a pandemic and locked down in our homes, away from each other. Books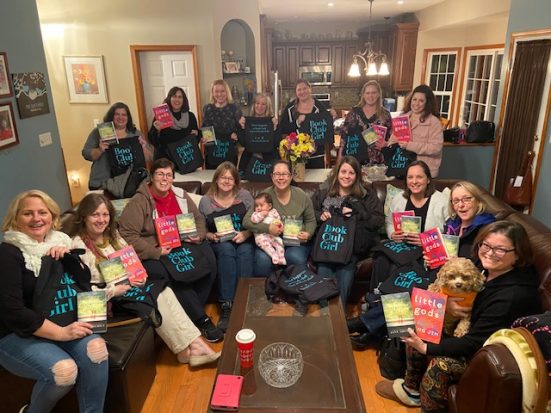 have brought us closer, give us an avenue for escape, and many titles we have read over the year, we would not have picked on our own. But through various book group programs, and the blessing of being given books to review and rate, our world has opened up to all the exciting genres that exist. Some of our favorite reads since this year have been:
My Dark Vanessa by Kate Elizabeth Russell
Let Them Eat Pancakes by Craig Carlson (We did a zoom with Craig from Paris, and we all raved about his book and how much we love him!)
The Paris Secret by Natasha Lester
Hollow Kingdom by Kira Jane Buxton
The Guest List by Lucey Foley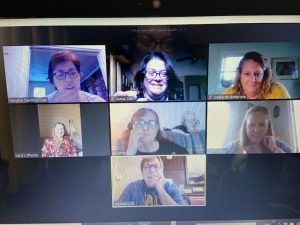 Since Covid we have been zooming our meetings, however in July we met outdoors for the first time which felt like Christmas morning when we were able to see one another in person, face to face, even with masks on!
What started as a few girlfriends around my kitchen table has turned into a robust group of friends whom we treasure and feel so blessed to have one another, all brought together by our mutual love of books and reading.
Check us out on Instagram @bookclubgirlssparta and see me, the founder, at @spartabookworm. This book club was the best thing I ever started!
All of our Spotlight Groups receive a box of discussable books. Soho Press will be sending the members of Book Club Girls Sparta free copies of these great titles:

Three Hours in Paris by Cara Black
Krik? Krak! by Edwidge Danticat
The Widows of Malabar Hill by Sujata Massey
Where the Dead Sit Talking by Brandon Hobson
---
Want to meet our previous Spotlight Groups? Read about them here!
To enter to become a Spotlight, email a picture and description of your group to info@readinggroupchoices.com.