February 2021 Spotlight: Virtual Beach Book Club
Our February 2021 Spotlight is a "wine group with a book problem" from Florida!
We formed a book club in Pensacola Beach, Florida, that moved to virtual meetings during the time of confinement. We had canceled our meeting last March due to the virus, but since then we meet each month, because my group of lovely ladies was missing each other. I suggested a virtual book club meeting to discuss our book (Nine Perfect Strangers by Liane Moriarty) as well as share a glass (or two or three) of wine. I often say my "wine club has a book problem," so you can be the judge on the priority.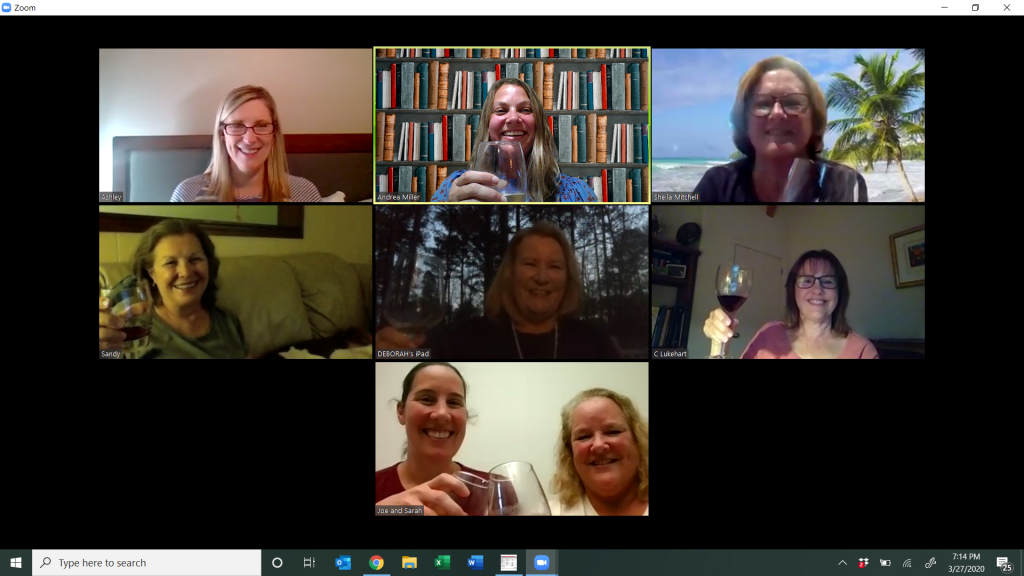 It was a huge success! Although not all members felt comfortable with the technology (we're working to solve that for future meetings), everyone else joined in and had a fun time. I was even able to create a custom background with a wall full of books behind me using Canva.
All of our Spotlight Groups receive a box of discussable books. Ecco will be sending the members of Virtual Beach Book Club free copies of these great titles:

The Seven or Eight Deaths of Stella Fortuna by Juliet Grames
Nothing to See Here by Kevin Wilson
Memorial Drive by Natasha Trethewey
Good Company by Cynthia D'Aprix Sweeney
---
Want to meet our previous Spotlight Groups? Read about them here!
To enter to become a Spotlight, email a picture and description of your group to info@readinggroupchoices.com.