January 2020 Spotlight: Morse Lakes Ladies
Our January Spotlight Group hasn't missed a monthly meeting in 17 years!
We are the Ladies of the Lake, living in Morse Lakes in Bloomingdale, NJ. We've just finished up
our 17th year of book club, and are eagerly awaiting the beginning of our 18th year together.
We meet on a monthly basis: the second Monday of the month is sacrosanct. We are proud to say that we haven't missed one of our monthly meetings in the 17 years we've been together. We enjoy the camaraderie and thought-provoking discussions. We've also been able to include several field trips that correspond with the monthly read. For example, a trip to Paterson, NJ, that coincides with Amy Stewart's Girl Waits With Gun, who, by the way, was also kind enough to Skype with us at our meeting.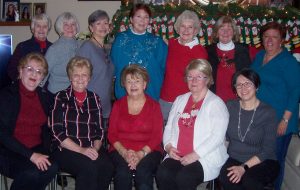 Good friends and neighbors for over 45 years, mixing laughter with tears, but always enjoying each other's company and respecting each other's opinions, although I have to say that we do try and stay away from politics.
To enter to become a Spotlight group, email a picture and description of your group to info@readinggroupchoices.com. If your group is chosen, we will send you and your group a box of discussable books and a copy of our most recent edition of Reading Group Choices!
---
Want to meet our previous Spotlight Groups? Read about them here!