With 2020 here, many people are thinking about New Years resolutions. And, if you're the avid reader we think you are, you might be thinking about some reading resolutions for the new year. Reading Group Choices wants to help! Here are six things you can resolve to do as you read in 2020:
1. Read a book with someone.
Challenge a friend to read a book with you. Whether you meet up to talk about the book after finishing it or you set aside time to read together, this resolution can grow your friendships and check a book or two off of your reading bucket list. Consider it a book group for two: share your insights and theories and come to a better understanding of the book together. Or even choose someone you know but would like to know better!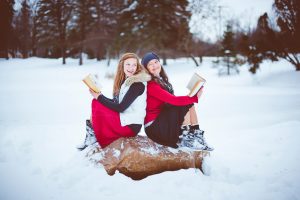 Also, if you have the goal of reading a long or difficult book, reading it with a friend can keep you on track. Don't forget to celebrate your eventual triumph—you and your companion can buy each other the next new read!
2. Support local bookstores.
With online shopping making it easy for people to buy books with one click, many local businesses struggle to stay afloat. Make 2020 a year that local bookstores thrive because of your support! Buying a book locally protects the bookstore tradition, keeps tax dollars in the community, and reminds us of the beauty of the printed page—not to mention the fact that it preserves the experience of buying a book in person and being able to ask a seasoned bookseller for recommendations! This new year, on a break at work or during some downtime on the weekend, make it one of your reading resolutions to patronize your local bookstore and buy a new book. You won't regret it!
3. Keep track of books you want to read.
Sometimes, when you have the time to sit down and read for a while, it can be hard to choose what to read. With so many great books out there, the possibilities can seem overwhelming. So, do yourself a favor this year and keep a list of books that you really want to read. When the opportunity to read arises, you won't be at a loss. Our annual favorites lists and reading guides compile our top book picks for the year, if you ever need a suggestion!
4. If you don't like a book, move on to something else.
Most readers have a shelf full of books 'to be read.' And many have, at one time or another, started to read one or more of these books without success—thick classics that weigh heavily on you, or something that a relative really wanted you to read. Somehow, the first few pages or chapters didn't capture your attention, so you put the book back on the shelf, where it sits to this day. This New Year, allow yourself to leave behind books that just aren't doing it for you. Free up your headspace—and shelf space—for something new that grabs your attention and reminds you why you love reading in the first place.
5. Diversify your reading choices—or zero in.
The New Year can be a fresh start, and for many readers, this means branching out into unfamiliar genres. If you mostly read fantasy, try some sci-fi. If memoirs are your go-to, try picking up some poetry. By expanding the horizons of your reading, you'll learn new things about yourself (and discover a great new book).
However, if you find that one genre is your all-time favorite, maybe the New Year can be a time to focus in on that genre. Why not make 2020 the year of YA romances? Spending a lot of time reading one genre can open up new perspectives as well.
6. Socialize with your reading.
People often categorize reading as a solitary activity, but it doesn't have to be. The new year can be a great opportunity to get social as you read. Attend an author's book signing. Join a website forum or comment on someone's blog. Follow a new BookTuber (i.e. a Youtuber who makes videos about books). Of course, joining a book group is a great way to go here, since reading is always more fun when you share the experience with other readers!
No matter what reading resolutions you put in place for the new year, and however long they last, enjoy some great books in 2020!
---
Not sure what to read? We've got lots of great book lists on our blog, and check out the Reading Group Choices 2020 guide for a selection of books from all genres!