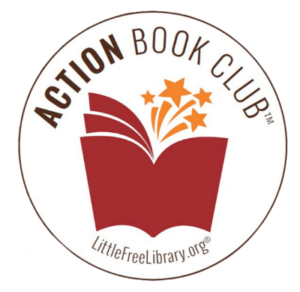 Little Free Library, a wonderful organization that RGC has partnered with in the past, has just launched a new initiative. Action Book Club (ABC) pairs a love of reading with community service in an effort to strengthen both minds and communities. Any pre-existing book club (or new club!) can sign-up to get involved. Many of the books we recommend here at RGC are also recommendations of ABC so it's easy to integrate your own group's reading with an ABC service project. Margret Aldrich of Little Free Library took a few minutes to answer some of our questions about this exciting initiative and provide details about how to sign up.
RGC Group: Could you explain how the idea for Little Free Library's Action Book Club came about? 
Little Free Library: Little Free Library is a nonprofit organization that inspires a love of reading, builds community, and sparks creativity by fostering neighborhood book exchanges around the world. We constantly see the good things that Little Free Library owners, who we call "stewards," are doing in their communities. We also see that, for many of those stewards, their positive actions stretch beyond having a Little Free Library to other volunteer work—from organizing block parties to hosting story time for kids. We started to think about how books can inspire and accelerate good works, and how we could help facilitate this. From there, we developed the Action Book Club, which combines reading with positive community action.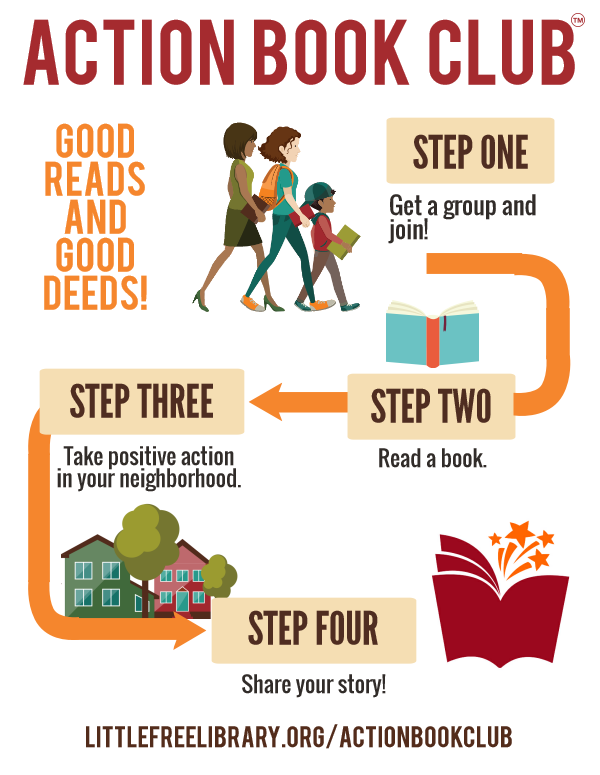 RGC: How does Action Book Club differ from a traditional book club, if at all?
LFL: Like a traditional book club, the Action Book Clubs invites members to read a book and get together to discuss it. The twist is that an Action Book Club also carries out a positive group activity to benefit their community, then shares their experience with us at Little Free Library. Through trading stories, ideas, and successes, participants will contribute to a national conversation and inspire others to take action in their own neighborhoods. It's a ripple effect of good works—and it all starts with a good book!

RGC: What are your initial goals in starting Action Book Club?
LFL: We believe that books can inspire people to make a difference, and we want to give shape to that. One of our goals is to catalog and share the positive outcomes from Action Book Clubs in an effort to amplify their good work and, in turn, inspire others.
RGC: Does Action Book Club recommend any books in particular for groups to read or can they pair any book with any service commitment?
LFL: Each year, the Action Book Club will feature two themes. Our current theme is "Good Neighbors"—which celebrates the power of community, kindness, and giving back—and we encourage Action Book Clubs to read books on that topic. We have a recommended reading list online that includes titles like A Man Called Ove, LaRose, The Revolution Where You Live, The Woman Next Door, and The Underground Railroad, but we welcome you to choose a different book that speaks to your group. We also include recommended reading lists for young readers and middle readers. All ages are invited to participate in the Action Book Club program.
RGC: Why did you choose to pair reading groups and community service? How do these inform or augment each other?
LFL: Reading groups and community service are a natural match. At its heart, every reading group cares about good books and making connections with each other (two tenets of Little Free Library). We want to help activate the reading groups who want to take their energies beyond their immediate circles to the broader community. Not only will a service project benefit the place where you live, it will enrich and enliven your reading group experience.
RGC Group: How can you help support reading groups who want to get involved with Action Book Club?
LFL: We've made it easy for reading groups to sign up to become Action Book Clubs with an online registration form. You can also find recommended reading lists, conversation starters, and activity suggestions on our website. Each group that signs up will get a welcome kit from Little Free Library, and we also provide a Facebook group where you can connect with other Action Book Clubs around the country.
RGC: How do you suggest reading groups come up with community projects and go about finding partners in their local communities in need of service work?
LFL: We provide a list of activity ideas, but we encourage groups to choose a project that fits their community's needs. Remember that no project is too small—and remember to have fun! Our pilot groups had a great time with their projects: an elementary classroom in Louisiana collected more than 100 pairs of new socks for local shelters, while an existing book club in Minnesota joined a neighborhood bike patrol.
"This was such a rewarding experience where we all had an important part of the 'action,'" says Alysson of the Louisiana group's experience. "All the kids worked together to help the community in need, and the shelters were so thankful for the kind gesture."
And Sage Dahlen and Will Wlizlo, the founding members of the Minnesota book club, reported that "By keeping eyes on the bike trail, we're helping ensure the safety of other trail users and neighborhood residents. It is a great way to be a Minneapolis 'good neighbor.'"
RGC Group: What are your main goals and hopes for Action Book Club over the coming year?
LFL: We want to see Action Book Clubs of all kinds sign up from all around the United States—and beyond. We're off to a great start! In the first 48 hours of the Action Book Club, nearly 200 groups signed up to be Action Book Clubs. Sign-ups are coming from all over the country: Colorado, Iowa, California, New York, Texas, Tennessee, Minnesota, South Dakota, Connecticut, New Hampshire, Hawaii, North Carolina, Pennsylvania, Florida, etc. And sign-ups are coming from all kinds of groups, like existing adult book clubs, Girl Scout troops, elementary classrooms, teenagers, friends, neighbors, church groups, programs for people with disabilities, mothers of young kids, intergenerational groups, business owners, teachers, and more. We are thrilled to see people of such different backgrounds excited to read books and give back to their communities.