May Spotlight: JCC 39ers
The members in our May 2019 Spotlight Group hail from The Sunshine State!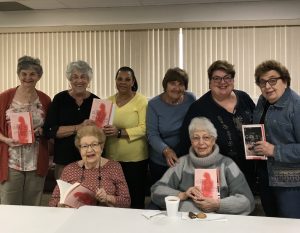 This is a photo of our book club getting ready to discuss The Girls at 17 Swann Street by Yara Zgheib. We are a group of women ages 65-90+ and meet the first Thursday of each month. We are called the JCC 39ers and meet at the Roth Jewish Community Center in Maitland, Florida. Our discussions are insightful and interesting as we bring to them many years of experience. Our group has been meeting for approximately 10 years, and we have a great sense of camaraderie.
To enter to become a Spotlight group, email a picture and description of your group to info@readinggroupchoices.com. If your group is chosen, we will send you and your group a box of discussable books and a copy of our most recent edition of Reading Group Choices!
---
Want to meet our previous Spotlight Groups? Read about them here!