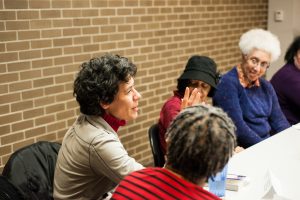 We wanted to find out why readers love their book groups!
Which is why we asked them to tell us in our 2018 RGC survey. The results are in, and they remind us how valuable reading groups are for connecting with others and expanding the way we think. Want to know what readers enjoy most about being in a group? Here are the top reasons, along with their own words…
1. Stretching Boundaries
"Reading books that I would not normally choose on my own." This positive aspect of book groups appeared time and again in our survey responses. It's natural to stick to genres, authors, and styles that you enjoy, but groups invite us to read outside of our comfort zone. Whether it's a political young adult novel or a collection of essays by a science-fiction master — reading with others expands our boundaries.
"I love it when I discover a book I wouldn't have picked up on my own. For example, our group just read The Astonishing Color of After. Never would have read it otherwise, and I'm glad I did! Plus, they're my 'people!'"
An unexpected pick may lead to your next favorite author. As one reader put it: "I love reading things I would normally never reach for and finding a gem!"
2. New Perspectives
Many readers told us that they love their book clubs not because members share their opinions, but instead challenge them and bring new perspectives. One reader enjoyed "learning the different perspectives each of us bring to the table. Our individual life experiences give each of us such a different view of every story." And another valued "hearing divergent opinions on same book."
A group offers the chance to hear a completely different take on a book, based on each member's background and beliefs. "18 of us from extremely varied backgrounds and education levels. Lots of different ways to view the world," as one reader said. "My favorite group has mostly millenials and it is interesting getting their take on the same book!" said another.
"I would say our groups motto is 'Not everyone will like every book we read and that makes the discussion even better.'"
You may walk away from the discussion with a new understanding!
3. Coming Together
In addition to expanding frontiers and embracing differences, readers also expressed the desire to come together: "We are of different ages, interests, and have a variety of tastes and opinions. Our commonality—
love of books."
There's just no substitute, as the world gets busier and news never stops, for sharing a moment over a common interest. Some groups have bonded for a long time: "I have formed friendships since
beginning 15 years ago." And some continue to discover new things about one another: "I learn a lot about topics but just as important, about other members."
One word that came up multiple times when readers talked about their groups? "Camaraderie."
4. Just Plain Fun
And of course, our readers simply love the company of other book lovers and having a good time!
"The women in my book club are diverse, thoughtful, fun, and clever readers (and people)."
Our respondents cited "being social with other readers" enjoying the "sisterhood among women," and "just being part of a group who loves reading as much a me" as reasons for coming back to the book group table every month. The social aspect is key, when so much of reading is a solitary act.
In the end, more than one reader summed up what they love best about their groups: "Everything!" And we couldn't agree more.
---
Explore our other 2018 survey results, including our most-read books from Reading Group Choices!