September 2019 Spotlight: The Page Turners
Our September Spotlight Group celebrates 25 years and awards prizes for their favorite books!
Our group is called The Page Turners, and since we began in 1994, we have turned a lot of them! We are a group of women in our 50s, and we meet monthly (except for June and July) at our members' homes. We start with a planning weekend every August at a member's lake house, where we organize our year, play in the lake, eat, and have fun catching up with each other. We each take a month to choose a book and lead the discussion. In December, we have a Christmas party and book exchange, and at our last meeting of the year, in May, we vote on our favorite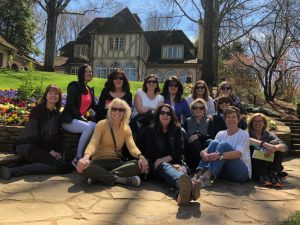 book of the year. The winner and runner up take home prizes that they get to keep for the year. We read both fiction and nonfiction, and we try to include a classic every year. Our group takes weekend trips together, goes to author visits, and to movies made of our favorite books. Over the years, we have become the best of friends, and our group is an important part of each of our lives. Here is a picture of our book club on one of our field trips, to Gibbs Gardens in Ball Ground, Georgia.
To enter to become a Spotlight group, email a picture and description of your group to info@readinggroupchoices.com. If your group is chosen, we will send you and your group a box of discussable books and a copy of our most recent edition of Reading Group Choices!
---
Want to meet our previous Spotlight Groups? Read about them here!