Thank you to everyone who filled out our 2015 survey!
We hope you enjoy looking at the 2015 Favorite Books Lists!

The Winners of our 2015 Favorite Books Survey Are. . .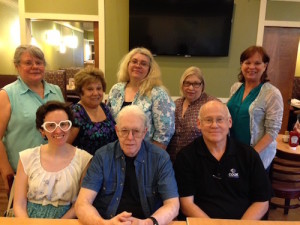 North Versailles Book Club
In 2013 our ten members met at the local library and decided to organize the North Versailles Book Club. Even though we have different backgrounds (Artists, Teacher, Salesman, Homemaker, Minister, Business Owner and administrative assistant), we have one thing in common: our love of reading. Our meetings are the first Friday of the month at a local family restaurant.
Every month we choose a genre and each member picks a book for that month. We give a short snippet of the book we read, just enough to share without spoiling the ending in case another member would like to read it. We try to hold our presentations to three minutes. Our favorite way of choosing our book is by using Reading Group Choices.
Here is a list of the 2015 books our members have read:
Orphan Train by Christina Baker Kline
The Girl on the Train by Paula Hawkins
The Light Between Oceans by M. L. Stedman
The Goldfinch by Donna Tartt
Unbroken by Laura Hillenbrand
The Boys in the Boat by Daniel James Brown
Wild by Cheryl Strayed
The Glass Castle by Jeannette Walls
The Underground Girl of Kabul by Jenny Nordberg
The Book Thief by Markus Zusak
Miss Peregrine's Home for Peculiar Children by Ransom Riggs
We also do group activities (Theater trips to see our favorite books that were made into movies, picnics, holiday parties, and a picnic in the park with our sister book club. Good Times!)
The North Versailles Book Club would like to thank Reading Group Choices for choosing our club this month.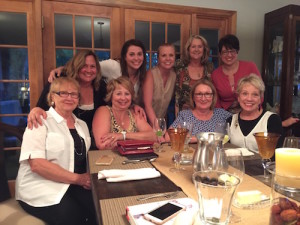 Mother-Daughter Book Club
A group of friends started the club in 2010 in the Twin Cities as a multi-generational effort to share a love of reading. Since we began, we have had 3 weddings (the younger gals in the photo are all fairly recent "brides") and we have welcomed many babies/grandbabies. Among the 8 mothers (2 are missing from the photo), we have 8 other daughters and daughters-in-law in the area who attend when they can. Daughters flow in and out as their family and work schedules allow time for recreational reading. Two of our mothers are snowbirds who fly south for the winter. We warmly welcome moms and daughters to attend when they can.
We meet monthly in our homes for a light meal, wine and book discussion. The host picks the book and leads the discussion. The conversation is always rich with different perspectives. In busy December, we forgo a book discussion and hold a Christmas Party with a white elephant gift exchange. In June, we went out to dinner and then attended the movie Me Before You since that was one of our book selections in 2015. We plan to do the same with Girl on the Train and Light Between Oceans when they are released this Fall 2016.
In July we had a spirited conversation about our favorite books listed in Reading Group Choices. We have read so many of them. From the 2015 favorites list, we read: Orphan Train, Me Before You, The Girl on the Train, The Signature of all Things, The Boys in the Boat and Wild. One of our favorite books we read in the last 12 months was All the Light We Cannot See. For August, we are reading The Light Between Oceans. We will look forward to more reading suggestions offered by Reading Group Choices.
Mother-Daughter Book Club Won a Gift Certificate to Their Local Independent Bookstore in Minneapolis:
Magers & Quinn Booksellers! Happy Shopping!!