Author Antoine Laurain discusses his bestselling novels, including The Red Notebook and Vintage 1954, which have gained international appeal.
For his interview with Reading Group Choices, Antoine talks about writing famous figures into his novels, why technology doesn't make for a good love story, what a stranger would think about his apartment, and his role as ambassador of French charm…
Reading Group Choices: Your books present a diverse variety of characters in terms of gender, age, occupation, social and economic level. Do certain perspectives come to you more naturally or attract you more than others? And are there challenges when writing about well-known people, such as Patrick Modiano, Edith Piaf, Francois Mitterand, among others?
Antoine Laurain: In fact, I try to give at the same time an originality to the character but also a job and social position that you can perfectly understand — because you have a friend, a brother, a sister, the friend of a friend who does this type of work. You aren't lost. What I'm describing to you is familiar, but I try to add a small oddity… For example, in my book The Portrait, Pierre-François Chaumont is a lawyer. We all know a lawyer. Only with him, he collects objects of art and his wife detests it. There's the oddity.
Otherwise, when there are many characters in a book, like Vintage 1954, The President's Hat or French Rhapsody, there must not be two characters who resemble each other. This is how it works with the cast of a novel. Sometimes I am inspired by people I know or that I have met, at other times I do a lot of research about a job that interests me and don't know very well. It depends.
To capture characters who exist or have existed in real life, it's rather amusing. It's risky. I can't get it wrong. I always pay attention to make them say what they could have said. To find their voice, by that I mean their diction, the timbre of their voice. Mitterand doesn't speak like Truffaut who doesn't speak like Gabin who doesn't speak like Modiano. It is a very particular exercise. They are only kindly apparitions during the space of a chapter. But the exercise is not so easy.
RGC: What has surprised you most when working on your newest book, The Readers' Room? What does it share, or not, with your previous novels?
AL: A taste of mystery. An investigation. A search for oneself. With this time an aspect of a whodunnit in the second part. And you will only get the solution in the final pages.
This novel also asks a question that borders on the fantastic or supernatural: Does what we write lead to what ends up happening?
RGC: Much of your stories are centered around French culture, history, politics and the arts. Are you surprised by the resonance they have had with people outside of France? Do you worry that some readers in other parts of the world will miss some of the historical or philosophical importance of these references?
AL: In the beginning, yes, I was surprised. The success of The President's Hat in the UK and US stunned me because it was a very French book, which made reference to many details from the 1980s in France: songs, TV shows, a radio presenter. I noticed that the readers from abroad were not bothered by this, for two reasons: first, because the story and the narrative are more important than the details. A lucky hat, a woman's bag found in the street… The readers understand the story. They follow the story above all.
Secondly, all these details are part of the charm and are in the end very relatable. In The President's Hat, you don't know who the TV presenter Yves Mourousi is. However you understand he is very famous. If you are an American, you can think of an equivalent in the US, like Larry King. It's not likely you know the song "Ainsi soit je" by Mylène Farmer in the eighties, but we can say in the US it was like "Sweetest Taboo" by the singer Sade.
A last thought: my novels are occurring in France and mainly in Paris. There is a good reason for this: I am French and was born in Paris! The Duchess of Cornwall honored me by citing my book The Red Notebook in her list of 9 recommended novels.
"A clever, funny novel . . . a masterpiece of Parisian perfection," she said.
So it's not intentionally that the charm of my city can be felt in my books, but I think that for many readers, it's like visiting there for the duration of the novel. I am a sort of ambassador of French charm and culture, as Michael Caine is for British charm and culture!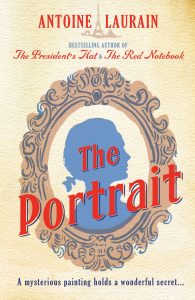 RGC: Do you have a specific attachment to any one of your books? Perhaps because of the process of writing it, or the enjoyment of reading it, or from a personal connection to it that makes it a bit different to you than the rest?
AL: I like all of my books, some more than others. Let's say I keep a special affection for the first, The Portrait. Because it is the first to have been published, it was a kind of adventure to move from a text in my computer to a novel in a bookshop, and I wrote it in the store of the antique dealer for whom I was working then. It belongs to a certain period in my life.
RGC: All of the characters in your books seem to be on a search — for a hat, for a painting, for a person, for a new or past life. It's almost as if the characters are not whole until they find the missing item or person or feeling. Do you believe this search is something all people feel in a way? Is it something you find yourself considering in your own life and so becomes part of your writing?
AL: Your analysis is very good. It is indeed the common point of my novels, but incidentally… maybe we are always writing the same story in different forms? That is also why my novels have been compared to tales. The tale is the quest and the success of this quest by the end, after having overcome trials. My characters are all going after a secret, a secret which is, I think, simply themselves. At the end, they are appeased. They have found the answers to their questions. That's it… At last, they are in peace.
I think we all feel this desire to be at peace with ourselves. Novels have to be greater than life. They have to in some sense show us the way…
RGC: Can you share something you are reading or writing during this quarantine time?

AL: Reading and looking through all the albums of Jean-Jacques Sempé. Whichever ones. They are all good. Sempé is a genius.
RGC: In The Red Notebook, Laurent explores Laure's apartment when she is absent, and is left to learn about her solely from what he finds: "The apartment was itself like a sort of giant bag with thousands of nooks and crannies, each one containing a tiny portion of its occupant's life." What would a stranger surmise about you from your own apartment, from observing only your possessions and decorations?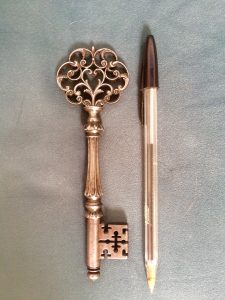 AL: I attach much importance to places. I think that they resemble their owners. From my flat, what could you deduce? It is full of beautiful objects from the past, whose uses are unknown to you for the most part… that the man living there could be a former antique dealer, that he has a cat. That this interior is very warm but also a little unnerving. What to think about someone who collects keys that he will never know what doors they open? I am sending you a photo of one of my keys, it comes from England, from the 18th century, they had excellent locksmiths. Look closely at this object and tell yourself that originally it was a rectangular iron block of one kilogram, which has been heated up, forged, sawed, carved, polished to become like this.
RGC: In The Red Notebook, there are references to email and smartphones, but overall technology stays offstage. Is a love story more romantic without technology? More generally, is magic and myth hindered by our digital world?
AL: Good question. I have mixed feelings… I still think it is better to meet somebody, to see each other, talk, have a drink in the sun rather than go through digital filters. These days, you can find poetry also in emails, pictures, texts and even emoticons. But if all this technology can have charm in the reality of our lives, I don't see how it can be transcribed into a novel. You can reproduce an email exchange for a chapter, but not much more. It's an abstract material, cold, which doesn't go along with literature. And then, there is no action: when you read an email, you are seated in front of a screen, the same when you write one. Even if what you read is very interesting, there is no action, the body doesn't do anything, there is no movement. There is nothing. It is purely cerebral and dematerialised. It is contrary to life. We are leaving two strange months of confinment linked to Covid-19, what did we have other than technology to connect us? But honestly, the limits of these tools have been demonstrated by this occasion. It is not life. Rather a novel is life, done better.
RGC: In Vintage 1954, the allure of the past is tempered by the inequalities that existed for women and minority groups, for example. We're thinking of the moment in the train when the time travelers inform another passenger about the political and social future. Can you talk about the tension between romanticizing the past and remembering its limitations ? What qualities from the past — habits, customs, rituals — would you most like to welcome back to the present ?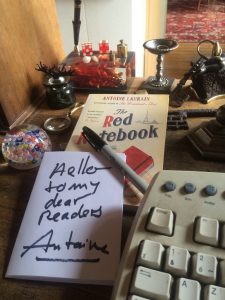 AL: It is the whole question with relation to the past. Often it's a bit reinvented to be better. Take your childhood vacations, I am sure that the first memories that come to you are happy and there is sun. You have forgotten a little about those long rainy afternoons or how bored you were… I was one of the last to do my military service in France, I can guarantee you that in the moment I found it extremely disagreeable, but you see, after all this time, today I remember instead some picturesque anecdotes and they make me smile. However at that time it didn't make me laugh at all.
It's a little similar for history, I think that one idealises certain times. America in the fifties, we prefer to think about a multicolor jukebox and a beautiful pale blue Cadillac rather than the condition of black Americans. Nina Simone was not allowed to have a career as a classical pianist because of the color of her skin. So, my 1950s in Vintage 54 are also a little idealised, but all that I describe as charming and beautiful truly existed: the shopkeepers, people who talked to each other in the bus, the central market (Les Halles)… I sometimes have a bit of nostalgia for this France. I own that. It doesn't pose a problem to me to be attached to the past of my country.
Photo credit for Antoine Laurain: Pascal Ito © Flammiron
---
Read more about Antoine's novels The Red Notebook and Vintage 1954, and browse all the great author interviews on our blog, including other French authors such as Timothée de Fombelle!