We were more than pleased to recommend Belle Boggs' nonfiction book, The Art of Waiting: On Fertility, Medicine, and Motherhood, in Reading Group Choices 2017. So we were excited to find out that Belle would be speaking at the Decatur Book Festival where Reading Group Choices had a booth. And it was even more special because it was Belle's first event for the book!
The Art of Waiting includes Belle's personal experience struggling with infertility. But it also explores the cultural, psychological, and political views on fertility. Belle uses other people's experiences (IVF, surrogacy, adoption) as well as examples from art, film, literature, and other species. In her talk at the festival, Belle discussed the socially isolating experience of infertility. And she spoke of the grief she felt after three years of trying. The experience created a large divide between the life she thought she would lead, and the one she was actually living.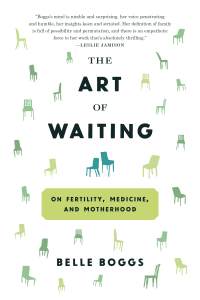 During the Q&A, the audience asked wonderfully challenging and compassionate questions. Belle commented on the ease of writing the book versus talking about the same issues in front of a group. She provided insight into the insurance challenges related to IVF since it is not considered a disease. This means the treatment is only possible for privileged people. Many attendees had a personal connection to someone struggling with infertility. They were able to ask Belle how best to provide support and care.
Belle provides an empathetic exploration of the evolution of human health and fertility. And she contemplates the emotional resiliency of people faced with hard choices. The Art of Waiting will provide important and heartening discussion for men and women of any age.
---
Order a copy of Reading Group Choices 2017 in our store, featuring The Art of Waiting and dozens of other recommended books!