Thank you to all of the great readers who filled out our 2020 Favorite Books survey!
Every year, Reading Group Choices surveys book groups and readers to compile our annual list of Favorite Books. And every year we randomly choose winners who receive a gift certificate to their local independent bookstore, copies of our 2021 annual guide, and a literary tote!

Meet our 2020 favorite books survey winners below (and sign up for our newsletter so you don't miss the chance to take our 2021 survey!).
---
TBD (To Be Determined)
Barrington, Rhode Island

The name of our book group is TBD for "to be determined", both for our book choices and our opinions. We were previously the Saint Andrews faculty and staff book group, but many of us had left or retired and did not want to leave the book group. We have been together 21 years and during that time we have read a diverse selection of nonfiction and fiction, both classic and current literature.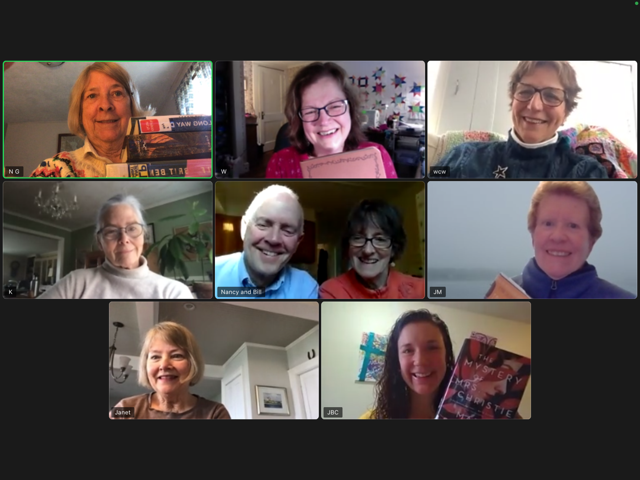 We meet monthly at each other's homes on an unofficial rotating schedule. We have been meeting on Zoom during the pandemic, but now that the weather is getting warmer and we have had our Covid vaccines, we look forward to meeting outside in person again. Books are selected based on members' recommendations and a group decision. We generally pick books two months in advance so that we can obtain them from our wonderful Rhode Island Ocean State library system.
We are currently reading The Rope: A True Story of Murder, Heroism, and the Dawn of the NAACP by Alex Tresniowski, and we just finished The Mystery of Mrs. Christie by Marie Benedict.
Recent favorites: Educated by Tara Westover, Killers of the Flower Moon by David Grann and A Gentleman in Moscow by Amor Towles, The Hate U Give by Angie Thomas, and The Only Woman in the Room by Marie Benedict.
Independent bookseller:  Barrington Books in Barrington, Rhode Island.
---
Teachers Who Read Book Club
Louisville, Kentucky

This book club formed out of friendships made while teaching in the same elementary school. We have been meeting for a night of eating and reading since March 2010 and take an annual cabin trip together in January. We work in a large school district with 150 schools, and in the eleven years we have been reading together there have been a lot of work changes, but we have stayed connected through our book club. We have varied tastes in books, but there are a few books that have been universally loved by all. We have shared life through the connections to the books we have read together and plan on reading together for many more years.
Lower Mainland Bookcrossing Group
North Vancouver, British Columbia

We gathered twice a month in pre-pandemic times, but now it's once a month over Zoom. The focus of our group is to read and share our books. We've been together for at least eight years, perhaps longer. Sometimes there has only been a core of six members, but there were times we had as many as twenty people in our group. We once got kicked out of a coffee shop for being too raucous!
Sometimes the books are passed around our group, other times we'll give them to complete strangers. And other times they are left in the wild. so anyone can come by and pick them up. We register a book at bookcrossing.com, make notes and then release it. We always hope someone will take the book, make their own notes and reviews at Bookcrossing, and then release the book again. Obviously the leaving in the wild is not so much a thing done during these times, but we hope we can get back to it.