Celebrating 15 years in Port Harcourt, Nigeria, Books on the Loose offers a variety of new books, non-book items, story hours, and a cafe. Owner Rosemary Adomokai talks to Reading Group Choices about the challenges of starting and continuing to run a bookstore. She also shares what her brick-and-mortar store offers that online retailers cannot, what her customers are reading, and recommendations for Nigerian authors!
---
Reading Group Choices: Based on where you are now, what advice would you go back and give yourself when you were first opening the store? What challenges were the hardest or easiest to solve or adapt to?
Rosemary Adomokai: I would have said, 'Rosemary, go work in a bookstore for a few years first to learn the ropes, ground up, instead of learning when you open your business. I am sure I would have avoided quite a few pitfalls along the way; take a few courses – on starting a bookstore and accounting; also accept a business partner, especially if they want to simply invest financially and not be involved in the day-to-day running of the business'.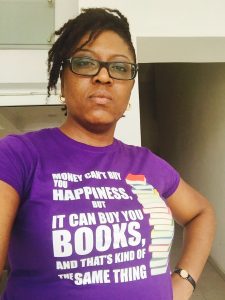 The hardest challenge was and is advertising the bookstore with very little budget. We have tried several methods and found that the best one we have is 'word of mouth' from our current clients. Of course we still get comments from current and new clients that just found out about us, that we aren't doing enough to advertise ourselves. The easiest challenge to solve was getting good, reliable staff.
RGC: How does the store reflect the Port Harcourt community? Could it exist in any other city, or is there something that connects it specifically to the city?
RA: Books on the Loose caters to a wide clientele and would do very well in most cities. There isn't one particular thing that connects it to Port Harcourt. However, it does show the variety of the inhabitants of Port Harcourt, based on our stock.
RGC: You're celebrating 15 years in business! What were the original reasons for opening the store, and have they changed since then? What have been some of the biggest changes you've seen in the store or community over the years?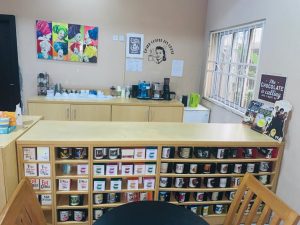 RA: The reasons haven't changed at all. In fact, they've become even more important. I am an avid book reader. My whole house is full of shelves of books – all sorts, different genres. I actually have books from when I was about 5-6 years old. When I first moved to Port Harcourt, I could not find one bookstore that could even begin to cater for my reading habit – there was at the time only one children's bookstore and a Christian/business and textbooks bookstore, if I recall correctly. I found it incredible! I read lots of different things – for me Christian and business books are low on my reading list. If you went to Lagos, you were spoiled for choice! So, I decided I had to set up a bookstore, the kind of place I'd like to go to, comfortable, aesthetically pleasing, clean and of course with a coffee bar.
The biggest change in the community has been an increased interest in reading, the reading culture has and is really taking off in spite of e-books. Also, the clients I have are becoming more knowledgeable about book piracy and wanting original copies of books, even though they're much more expensive. We have built our brand on the fact that we only sell original books and non-book products.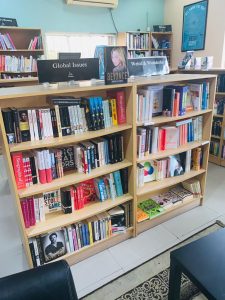 RGC: Independent bookstores can serve many purposes, much more than selling books: they can become centers of political activism, safe spaces, and bonding agents for neighborhoods. Can you talk about the different functions that Books on the Loose serves, and whether you see bookstores operating in a similar way across Nigeria?
RA: Certain bookstores do provide an avenue for political activism, arts exhibitions and bonding agents in their respective communities. It all depends on the goals of the bookstore.
Books on the Loose provides a few of those functions, like a space where a few nonprofits for children bring their wards for a day out, to introduce reading culture and a love of reading to them. We also support our local authors by carrying and selling their books directly from them. We donate books to schools and homes, and occasionally take on high school students for work experience.
RGC: How does the presence of online retailers like Amazon affect brick-and-mortar stores in Nigeria?
RA: A number of people buy from Amazon direct to Nigeria. However, this has not really affected brick-and-mortar stores badly. Most Nigerians like to 'see' and 'handle' what they're buying. With regards to Books on the Loose, we are fortunate. We have tried to create an atmosphere that invites people in, is comfortable and provides a wide range of products that encourages people to sit, browse and relax with no pressure to buy or leave; our clients appreciate and use our space in that manner. This I believe protects us to a certain degree from online retailers.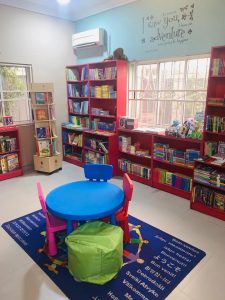 RGC: What questions are you most frequently asked by customers? What genres or authors are most popular?
RA: 'Why aren't you guys advertising more?', 'Why are your books so expensive?' Those are the most common questions we get. There are several popular authors. For children – Rick Riordan, Jeff Kinney, Rachel Renee Russell, Enid Blyton, Geronimo Stilton books. And for adults – Jeffrey Archer, Lee Child. As for genres – business, Christian, autobiographies/biographies, bestsellers.
RGC: I believe you have a full-time job separate from founding and managing Books on the Loose. Can you describe the challenges of managing both positions?
RA: Yes, I have been very fortunate to have the opportunity to do two things I love, more or less simultaneously.
Finding and balancing time for Books on the Loose was and is extremely challenging. When I first started Books on the Loose in 2005, I did not have a child and so could fully devote all my time to work. However, when I had my daughter, I had to make several changes in order to manage both my full-time job, family and Books on the Loose. I changed my full-time job to part-time. I scaled back on work projects in my 'day' job, to enable me to meet all my obligations without burning out.
RGC: What classic or contemporary authors would you recommend for readers who wish to explore the literature of Nigeria?
RA: There are so many to choose from. I would recommend Chinua Achebe, Ola Rotimi (these are very hard to come by now, unfortunately), Buchi Emecheta, Elechi Amadi, Ben Okri, Tomi Adeyemi, Chigozie Obioma, Nnedi Okoroafor, Chimamanda Adichie, Wole Soyinka, Chika Unigwe, Reni Amayo.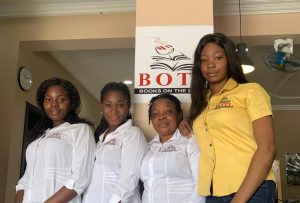 RGC: Since we are writing from Reading Group Choices, we obviously need to ask about book groups! Are book groups part of your shop community, whether informal gatherings where people talk about books they've read recently, or where everyone reads and discusses the same book?
RA: In January 2020, we finalized an agreement with a children's book club, allowing them use of our kids space in the store each month. This was meant to start in March, but unfortunately due to Covid-19, this has been postponed indefinitely.
However, we do have a quarterly 'reading hour' for children ranging from 3-10 years old in the bookstore. Each quarter a different age group is invited. We always ask a client to come to do the reading for us and engage the children in discussions about the book. At the end we give the children a take-home pack that includes snacks and an age appropriate book.
RGC: Where do you see Books on the Loose in five years?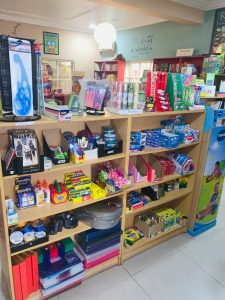 RA: We are making plans to open another store in another State. Hopefully we will be able to do so.
RGC: What impresses you right now about the publishing world, in terms of the voices being shared and made accessible to readers around the world? In what areas do you hope more will be done?
RA: The variety of authors now is literally astounding, especially in relation to people of colour. The level of opportunities being given and the rate at which they're being published are encouraging. I hope the publishers and publishing world will make books more affordable. They have the power to make it happen.
For more information, visit the Books on the Loose website.
---
Take a tour of our other Book Group Store Tour posts, including Garden District Book Shop, Parnassus Books and Women & Children First!