August 2020 Spotlight: Kathy's Book Group
Our August Spotlight gives the gift of reading back to their community!
"It was the best of times, it was the worst of times, it was the age of wisdom, it was the age of foolishness, it was the epoch of belief, it was the epoch of incredulity, it was the season of Light, it was the season of Darkness, it was the spring of hope, it was the winter of despair, we had everything before us, we had nothing before us, we were all going direct to Heaven, we were all going direct the other way ……."
Little did Charles Dickens in his Tale of Two Cities know that he would be defining our present time. Wow, the power of books to cross time periods, cultures and ages. It is why we read. It is why we get together to discuss and share what we read. And it is from those book group gatherings that deep friendships are created. So it goes with our book group, Kathy's Book Group which began in 2004 from a retirement bucket list.
The current book group has 12 members. Although people have come and gone, 6 of the original members remain. Most of the group are either former or present-day teachers. We meet monthly in someone's home or a local coffee shop. Everyone selects a month to host except for June and December. In June, one of our members hosts our "Wine and Classics" night where we watch a classic movie and sip wine. In December, we have what we call "a moveable feast."
Each month the hostess selects the book to be read and sends out book notes after our meeting. Our book selections have ranged from nonfiction, fiction, YA, children's, biographies and autobiographies. We have had free read months and themed reading months. We have had authors visit our meetings and even some people who were the subject matter of nonfiction books.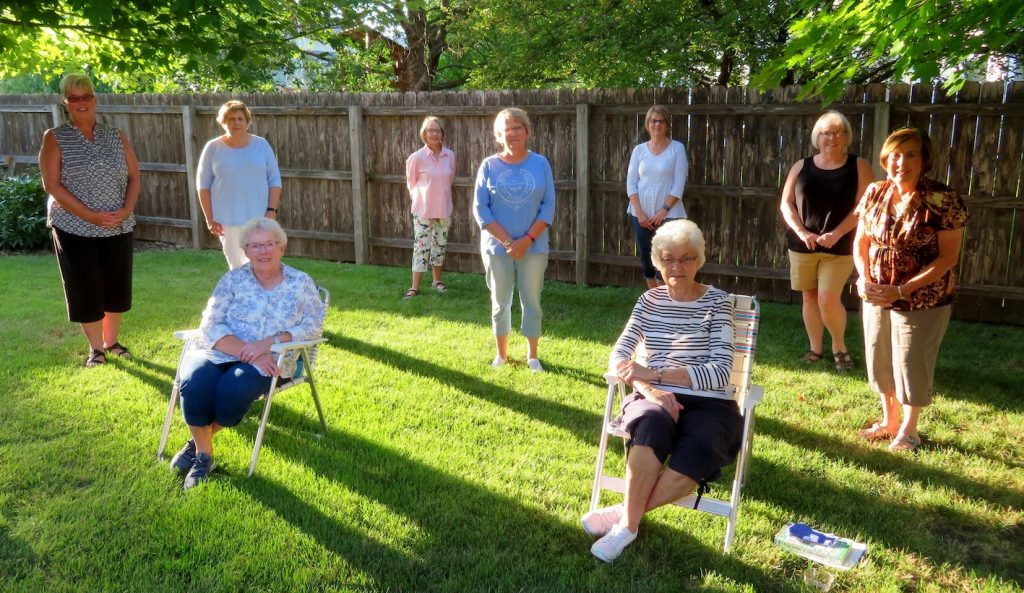 Our book group has always felt that it needed to give the gift of reading to our local community in some way. We've purchased books yearly for the students in our local school district's English Language Learner program so that they could each have their own skill-appropriate book to take home and share with their family. We've donated money to purchase books for a Summer Reading Book mobile started by a local teacher. And we have donated books that we had sitting around our homes to help one of our members fill her Little Library (she now has two!).
Our book group has exposed us to authors that we might not have chosen on our own and has kept us from putting off reading books in favor of other activities. We have all looked forward to our meetings, especially in times when events in our lives just seemed overwhelming.
Kathy's Book Group shares the love of books, but we also share something deeper and that is true friendship. Three original members of Kathy's Book Group have passed away. Kathy, whose inspiration it was for this group, passed away of ALS. Sadly, another member was lost to an aggressive form of pancreatic cancer and yet another succumbed to Parkinson's Disease. We learned a lot about dying with grace from these ladies. All three are missed along with our members who have moved away, though we continue to keep in touch with them. Our "out of town" members remain on our email lists and receive the Kathy's Book Group calendar and book notes. They attend meetings when they are in town.
During this unusual time, we have continued to meet. We have had Zoom meetings and are now meeting in members' backyards. We remain strong and are a great support for each other as we face this insecure time. We cry, we laugh, we think, and we have grown in compassion all through the love of books.
Reading Group Choices was pleased to receive this follow-up note from the group one month later!

"Kathy's Book Group would like to take this opportunity to thank Reading Group Choices for choosing us as the Spotlight Reading Group for August.  We feel honored.

Thank you too for your generous gift of 4 boxes of books. We selected The Wright Sister as our book to discuss in September. I can say that we enjoyed the book. We tend to select quite a few historical fiction novels for discussion so it was "right up our alley."

In October we will discuss another of the books sent to us, The Forgotten Daughter.

Since we appreciated your generous gift of books, when we've completed reading each set of books, we are donating them to the Grimes, Iowa library. They will make them available to other book groups within the local community."
All of our Spotlight Groups receive a box of discussable books. Harper Paperbacks will be sending the members of Kathy's Book Group free copies of these great new titles:
The Wright Sister by Patty Dann
The Forgotten Daughter by Joanna Goodman
The Paris Model by Alexandra Joel
The Transatlantic Book Club by Felicity Hayes-McCoy
To enter to become a Spotlight, email a picture and description of your group to info@readinggroupchoices.com.

---
Want to meet our previous Spotlight Groups? Read about them here!