Welcome to our new edition! 
Reading Group Choices 2020 is now available for purchase (eBook and paperback) on our website! The new edition includes enjoyable, unique, and challenging fiction, nonfiction, and young adult titles that we chose to inspire thoughtful and lively conversation. Thank you to all of our readers who inspire us to find and recommend new books each year. We listened to your requests and searched for titles from around the globe.
Happy reading and discussing!
Our picks for 2020
The Assasination of Brangwain Spurge by M.T. Anderson and Eugene Yelchin
Becoming Beatriz by Tami Charles
The Blink of an Eye by Rikke Schmidt Kjærgaard
The Book Woman of Troublesome Creek by Kim Michele Richardson
Chronicles of a Radical Hag (with Recipes) by Lorna Landvik
Cilka's Journey by Heather Morris
Circe by Madeline Miller
Clock Dance by Anne Tyler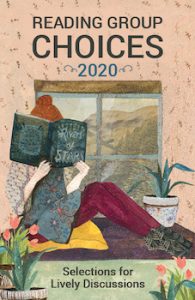 The Club by Leo Damrosch
The Current by Tim Johnston
Defending the Public's Enemy by Lonnie T. Brown
A Devil Comes to Town by Paolo Maurensig
The Fate of Food by Amanda Little
Feast of Ashes by Sato Moughalian
The Flight Attendant by Chris Bohjalian
The Game of Kings by Dorothy Dunnett
A Good Neighborhood by Therese Anne Fowler
Goodbye, My Havana by Anna Veltfort
The Guest Book by Sarah Blake
The Hello Girls by Elizabeth Cobbs
Here We Are by Aarti Namdev Shahani
High Achiever by Tiffany Jenkins
Hollow Kingdom by Kira Jane Buxton
Hope Rides Again by Andrew Shaffer
I Can Make This Promise by Christine Day
I Was Anastasia by Ariel Lawhon
I'm Not Dying With You Tonight by Kimberly Jones and Gilly Segal
In the Neighborhood of True by Susan Kaplan Carlton
In the Night of Memory by Linda LeGarde Grover
Indian No More by Charlene Willing McManis and Traci Sorell
Kopp Sisters on the March by Amy Stewart
The Lake on Fire by Rosellen Brown
The Last Book Party by Karen Dukess
Merci Suárez Changes Gears by Meg Medina
Milkman by Anna Burns
Midnight at the Blackbird Café by Heather Webber
The Missing Pages by Heghnar Zeitlian Watenpaugh
Motherhood So White by Nefertiti Austin
The Next Great Paulie Fink by Ali Benjamin
The Next Person You Meet in Heaven by Mitch Albom
999 by Heather Dune Macadam
Normal People by Sally Rooney
142 Ostriches by April Dávila
The Only Woman in the Room by Marie Benedict
The Orphan Collector by Ellen Marie Wiseman
Princess of the Hither Isles by Adele Logan Alexander
Rebel Poet by Louis V. Clark III (Two Shoes)
The Red Address Book by Sofia Lundberg
The Rosie Result by Graeme Simsion
Saint X by Alexis Schaitkin
The Seven or Eight Deaths of Stella Fortuna by Juliet Grames
She Would Be King by Wayétu Moore
Stone River Crossing by Tim Tingle
The Storyteller by Pierre Jarawan
Sunnyside Plaza by Scott Simon
Swede Hollow by Ola Larsmo
There There by Tommy Orange
Things We Didn't Talk About When I Was a Girl by Jeannie Vanasco
Tinkers by Paul Harding
Today We Go Home by Kelli Estes
Trust Exercise by Susan Choi
Washington Black by Esi Edugyan
We Are Here to Stay by Susan Kuklin
We Sold Our Souls by Grady Hendrix
Welcome to America by Linda Boström Knausgård
What God is Honored Here? by Shannon Gibney and Kao Kalia Yang
Where the Dead Sit Talking by Brandon Hobson
Women Talking by Miriam Toews
Yale Needs Women by Anne Gardiner Perkins